Archbishop Dr. Ludwig Schick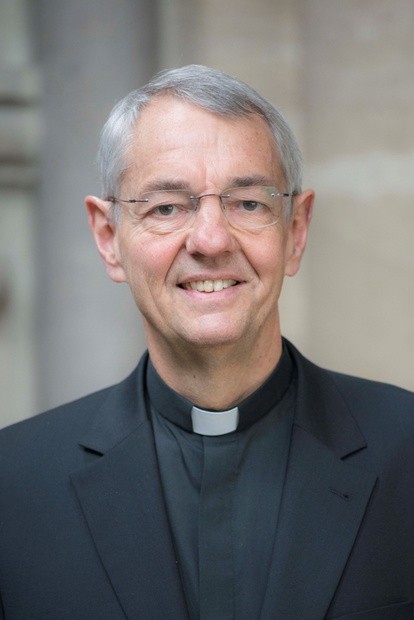 Was born on 22 September 1949 in Marburg. He graduated in Fulda and Würzburg his philosophical and theological studies. On 15 June 1975 he was ordained a priest in Fulda and then he was chaplain in Neuhof (near Fulda). Five years later, he earned his doctorate at the Pontifical University Gregoriana in Rome. From 1981 Schick taught canon law at the Faculty of Theology in Fulda and at the Catholic Seminar at the University Marburg. From 1985-2002 he was professor of canon law at the Theological Faculty of Fulda. 1987 Schick was appointed to the cathedral chapter of Fulda, three years later he was appointed deputy general vicar. Bishop Johannes Dyba appointed Schick on 1 September 1995 the Vicar General of the diocese of Fulda. On 20 May 1998 he was appointed Auxiliary Bishop of Fulda by Pope John Paul II. As a motto for his episcopal ministry itself Schick has chosen a passage from 1 Corinthians: "Sapientia nobis a Deo" (Jesus Christ is the wisdom given to us by God).
Since September 2006, Schick is the Chairman of the Commission for International Church of the German Bishops' Conference. A dignified life for all human beings on Earth is one of his main concerns. With his own foundation "Bread for all people", he wants to help to alleviate the suffering. In 2004 he also founded the Foundation "KinderReich" for the promotion of large families. Both foundations have so far distributed a total of nearly 400,000 euros. Since 2001 Schick is moreover lecturer at the German Bishops' Conference for the men counseling.
In the Frankish Roman Catholic Archdiocese of Bamberg live 714,000 Catholics (2012). So Bamberg is the only diaspora diocese in Bavaria. Since September 2007, there is a partnership between the Roman Catholic Archdiocese of Bamberg and the Roman Catholic Diocese of Thiès in Senegal.